USA/South: Fredericksburg, TX
Deep in the Heart of Texas Hill Country
Meetings & Events
Wineries aren't the only thing to do in and around Fredericksburg. There are a number of places and spaces that warrant a visit, starting with the square in the center of town – the Marktplatz, as it's known – which surrounds one of the most revered treasures of Fredericksburg, the Vereins Kirche. This 80-year-old octagonal building is a meticulous recreation of the original structure built soon after the arrival of the first German settlers in the mid-1800s – the first public building in town, serving as town hall, school, fort and a church for all denominations. Marktplatz hosts festivals, concerts and an ice skating rink in the holiday season, offering three pavilions (Adelsverein Halle, Ocktoberfest Halle and Kinder Halle), and a playground, gardens and restrooms. And when they're not being used for one of the numerous local festivals or events downtown, the pavilions at Marktplatz can be reserved for private parties.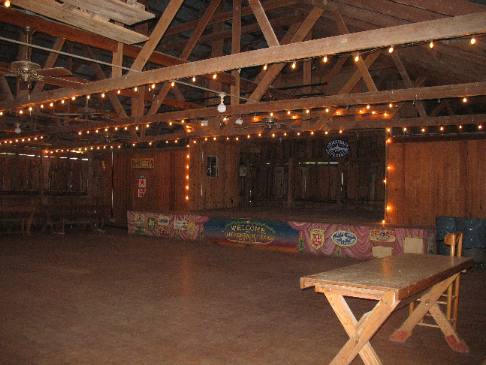 And speaking of pavilions, let's not forget that one of the most famous pavilions in the country is just a stone's throw down the road from Fredericksburg – the intimate-yet-infamous Hill Country hamlet of Luckenbach, made famous in the 1977 song by Waylon Jennings and Willie Nelson. Just two main buildings and a parking lot down a dirt road, Luckenbach is comprised of a general store, post office, beer joint and 3,000-square-foot, wooden-floored dance hall. When big names like Jerry Jeff Walker, Billie Joe Shaver, Lyle Lovett, Robert Earl Keen and Willie Nelson aren't packing 'em in at the main hall, you can bet the tiny beer joint in the back of the general store is hosting a picking circle of local musicians just about any afternoon or evening. A real once-in-a-lifetime opportunity to experience a unique American institution – there's nothing like Luckenbach anywhere, anyhow, anyway.
Back downtown you'll find two other unique venues among the German restaurants, beer halls, specialty stores, boutiques and galleries that dot Main Street. The first is Vaudeville, a self-described "multi-faceted venture" that encompasses an upscale home furnishings store, a gallery, a restaurant and a bistro/gourmet shop. It also has event space that can seat up to 70 people or handle cocktail receptions for even larger groups – the food, ambience and hospitality are top-tier.

The second is Carol Hicks Bolton Antiquités, a vast 14,000-square-foot warehouse explosion of antiques and collectibles sourced from Europe and beyond. You can meander through crooked aisles of one-of-a-kind beds and furniture, French cabinets and curiosities, huge farm tables, antiquarian books, postcards and ephemera, interesting fabrics, upholstery and bed linens, industrial objects and repurposed wrought iron. The thousands of items on exhibit (all for sale) are a reflection of who the Boltons are and what they love, and their unique space is available for small scale receptions-cum-shopping excursions of up to 30 or so people.
Although it's tough to capture the title of Most Unique Space in a place that's full of unique spaces, the Hangar Hotel, just a couple of miles from downtown Fredericksburg, is a top contender. We've all seen our share of "theme" hotels – some that work and some that don't. This one definitely works. Of course, being right next to the runway of the Gillespie County Airport helps, as does the fact that the hotel's architecture is a spot-on replica of an old wooden hangar at Brooks Air Force Base in San Antonio. This 50-room, boutique property, with its adjacent, 1940s-style diner, is based on a concept that a hotel should be more than just a bed and shower. The owners call it "an experience, a ticket to days gone by, an escape from the everyday" and rightfully so. But it's the building next door that really cements the deal.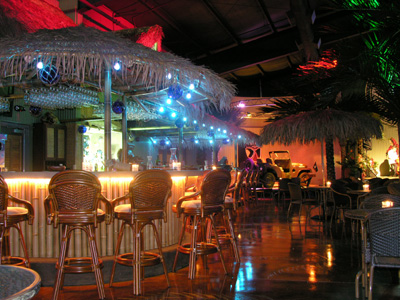 Behind the diner, you'll find two massive hangar-sized rooms – the 9,800-square-foot Airport Conference Center with its main hall and two Quonset briefing rooms, and the 10,000-square-foot Pacific Showroom, a painstakingly detailed replica of a 40s-era dance club and tiki bar with a stage that can handle anything from a small combo to a big band of more than 20. Sitting amid the palm trees and tropical flowers with the band in full swing and a mai-tai on the bamboo table in front of you, you'd swear you're on the set of South Pacific, just waiting for the Shore Patrol to burst in and drag you and your buddies back to base. An experience indeed.