Costa Rica/Guanacaste: Monteverde
A Cloud Forest Layered With Irony
Overview
Highlights: A wondrous cloud forest, great eco-lodges and dining, canopy walks, zip-lines, and orchid and butterfly galleries.
Meeting and Event Options: Best suited for incentive trips, small corporate retreats, family reunions, or small weddings.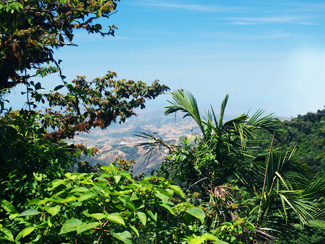 Those who come to Monteverde for the thrills of nature won't be disappointed. Visitors, especially those with a qualified guide, will see a vast array of plant and animal life, including possibly the magical Quetzal bird revered by the Aztecs, the big-beaked colorful Toucan and multiple varieties of song birds, raptors and hummingbirds, as well as several species of monkeys and other exotic mammals, all sorts of lizards, snakes, amphibians, insects and spiders (especially if one does a night tour), not to mention jungles resplendent with all manner of exotic trees and plants.
Tour buses, vans, and rental cars trundle up the narrow, windy roads to Monteverde carrying travelers seeking to witness this extraordinary cloud forest flush with all manner of plant and tree life, including many species of orchids nourished by the tropical mists wrung out of the Caribbean trade winds for much of the year. The mountaintop forests are rich in every form of life; more species live together in this one place than practically anywhere else on earth. The forest's unique position at nearly 5,000 feet above sea level at the Continental Divide between the tropical Pacific and Caribbean, which are separated by only about 100 miles of land in this part of Costa Rica, has created a rich temperate jungle, much of it still virgin, resplendent with a multitude of fantastically inter-woven systems of dependency between animal, insect and plant.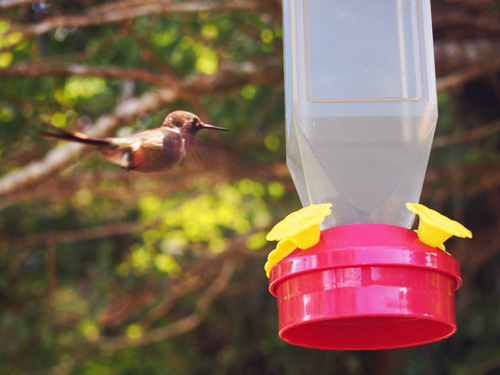 What most will miss on their quick stop at Monteverde, however, is the incredible story behind the genesis of one of the world's most celebrated eco-tourism centers. The multiple levels of irony behind the creation of Monteverde tell a story as much about humans as the forests tell of the wonders of nature. Today the area is so popular with tourists, and the main park so crowded at peak tourist season in late fall and winter, that it isn't always easy to escape to find serenity. We'll show you how in the outdoors, dining, and lodging sections of this Short Escapes guide to Monteverde. To learn more about the natural side of Monteverde, we suggest buying a guidebook or, better yet, hiring a qualified guide if you venture into these forests and seek to learn about them. In this Short Escape, we'll tell you the extraordinary human tale of this place…and how just a few people can have such a huge, unintended impact.
Accidental Tourism
So unique and rich with life and beauty, the cloud forests of Monteverde attract over 70,000 people a year from around the world to experience a place unlike just about anywhere else in the world. As the groups and individuals follow guides through the forest, hike off on their own, or frequent the Sky Walk hanging bridges several miles away (with its adjacent jungle tram and zipline course), dine in local restaurants, etc. it's hard to imagine that none of this would be here were not it for a young couple from California who came to the area in the 1970s with no other purpose but to study nature and complete their doctoral degrees.
George Powell vehemently rejects any notion that his or his wife Harriett's actions saved the cloud forests from destruction or led to the creation of this prosperous tourism spot that has forever changed the lives of the Costa Ricans who live there. (The two are since divorced, and Harriett now uses her maiden name McCurdy). Too many people, including their early partner Wolf Guindon, played a major role, George says, for him and Harriett to take credit. That may be, but it's as easy to trace what happened back to the actions of George and Harriett as it is to trace the Hudson River to its source at Lake Tear of the Clouds in the Adirondacks.
How this place came to be and what it has become is so layered with irony that one might not believe the story were it not indisputably true. For George and Harriet, and the local Quaker settler Wolf Guindon who became their early partner in the endeavor, never intended to create an eco-tourism destination—one that some could say helped spawn the eco-tourism movement itself. The establishment of the world-renowned cloud forest preserve and the bustling tourist town that now supports it with hotels, restaurants and other attractions, the change it would bring to the lives of so many locals, or the concept of eco-tourism never crossed their minds when they came up with the idea to save the forest.
The story actually begins around 1950 with a small group of Quakers, some of whom had served a year in a federal penitentiary for refusing to register for the draft. After their release, they and some family members and friends set out to find a country where they could live in peace. Their story is recounted in full in the book, Walking with Wolf, by Kay Charner. Lucky Guindon, the wife of Wolf Guindon, still lives in the house she and Wolf built together near the preserve; Wolf passed away recently. Lucky, articulate and worldly, brushes off any notion that there is anything extraordinary about their move from the comforts of the U.S. to what was at the time one of the most rural, isolated parts of Costa Rica.
After a few of their group's members toured Latin America, they chose Costa Rica as their final destination. The country had just abolished its army; "had more teachers than soldiers" as Lucky notes, and has a temperate climate and fertile soil well suited to farming. After realizing the first location they had found in the south near Panama posed too many obstacles, they returned to the capital city of San Jose to regroup. Various members made trips over the next few months to check out other places suitable for farming. Lucky says it was pretty much a fluke that a few members of their group came upon the area of Monteverde, as it is high up in the mountains at the Continental Divide, and was at the time accessible only by a small ox cart trail. Finding the soil fertile, the climate moderate and rainfall plentiful, the group, which included an 80-year-old family member, made the arduous journey up the mountain, lugging up the large canvas tents, tools and other supplies they'd need to begin their new life.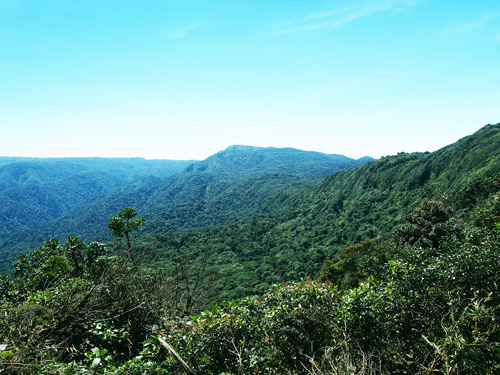 Clearing the Forest
Incredibly, Lucky says she has only good memories of those early years. The work of clearing the forest was arduous, but each of the group's families found land suitable for raising cattle or various crops and fruit, many of which flourish here. Over the years, the families and Costa Ricans (who call themselves Ticos) cleared much of the forests below the virgin forests on the mountaintop. They might have cleared that too but were advised that it should be preserved in order to ensure a source of clean drinking water from the streams coming down the mountain to the farms below. Most of these industrious Quakers had no interest in preserving the cloud forest when they arrived, although a few of them enjoyed exploring the forests and became amateur naturalists.
Though practicing Christians and pacifists, Lucky admits the Quakers at the time had no qualms about knocking down the forests for pasture and farmland. At the time, neither the Quakers nor the Ticos thought of preserving the animals or the forest. Many local men middle-aged or older recall hunting with their fathers for just about anything edible that moved. Some of the local Quakers, such as Wolf Guindon, made money on the side selling chainsaws to Ticos, who came to the area to take advantage of generous squatter rights that enabled people to take ownership of un-deeded land simply by occupying it and using it for agriculture or logging. Few outsiders had ventured to the area until a few scientific researchers who had heard of the undisturbed cloud forest made the arduous trip to visit the place in the 1960s. In 1970, when George Powell arrived on the scene to conduct research with his wife Harriett, he found a thriving little community of Quakers who had helped energize the local economy with a thriving dairy and cheese industry. Their cheese factory remains in business. Squatters were clearing land in the more remote areas on the other side of the mountain, accessing it by a road that cut through the cloud forest.
George Powell tells his side of the story with understatement and almost takes offense if one tries to give him too much credit for what happened. Lucky Guindon, who was there at the time, is perhaps the more objective source. As she tells it, George and Harriett set up camp on Wolf and Lucky's farm and they became friends, dining frequently together. The young couple later built a home on their land.
As both George and Lucky recall, the Powells were appalled at the deforestation. As young scientists and lovers of nature, they knew that a precious part of the world's natural history was threatened with destruction. Monteverde was just one of many areas of Costa Rica undergoing whole-scale clearing such that the country was on the way to destroying almost all of its wilderness.
George recounts what he says seemed like a continual flow of logging trucks going by during the day, and he and his wife began to share with Wolf and Lucky their concerns. One might have thought this chain-saw-selling dairy farmer would scoff at the outrage of young idealists from the University of California at Davis, but these were after all Quakers, and the passion of these two young people had a different effect. Wolf embraced their passion and set out to help them in their quest to stop the destruction and find a way to preserve the cloud forest.
A Logger Turned Preservationist
George and Lucky agree that Wolf was one of the best men in the area to know if one had any desire to make things happen, as his commerce, fluency in Spanish and relationship with locals gave him direct access to anybody who was anybody, including the representatives of the mining company that owned a lot of the land. The same lack of clear ownership rights in many areas that made it possible for squatters to claim land simply by occupying and using it also made it possible to buy land at very low prices, so that even George and Harriett could help buy up a few acres to get things started. That said, the process became mired in legal issues that complicated nearly every transaction. The idea was to create a contiguous area of land that would preserve the cloud forest forever. George says that the goal of preserving the cloud forest was daunting enough, noting he had no sense of the unintended consequences to come.
Their timing could not have been better. This was just a few years after the first Earth Day, and one of the local Quaker community members, an amateur naturalist, had found what became known as the Golden Toad, an until then unidentified specifies of toad that only lived for a few months at the beginning of the rainy season at the base of certain trees. Using the preservation of the Golden Toad as a rallying cry, they were able to raise money from the World Wildlife Federation and Nature Conservancy, both of which were looking to expand their preservation efforts outside the U.S. In the five years that George and Harriett actually lived in Monteverde, an effort involving many people and foundations began to put together various tracts of land so that today not only the mountaintop is safe, but also thousands of acres in a patchwork of separately owned tracks all set aside forever. Sadly, the Golden Toad became extinct anyway, probably due to a fungal infection, which some believe is connected to global warming.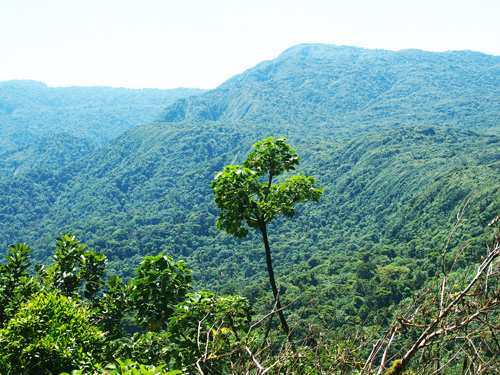 To raise significant money, the Powells and Guindon knew they needed credibility. No one was going to give large sums to two doctorate students and a farmer to buy land. They decided to affiliate themselves with the not-for-profit Tropical Science Center in San Jose, whose credibility as a potential manager of the fledgling preserve helped land the large donations that helped create and sustain it. George credits many for taking up the cause, including Dr. Adrian Forsyth, a Harvard PhD in tropical ecology, who is now president and co-founder of the Amazon Conservation Association, as well as many Costa Ricans.
In the meantime, the quest to save the forest changed life for the Guindons. "These were rough years for me," recalls Lucky, who otherwise has little bad to say about her long life. "I had married a dairy farmer. All of a sudden, he was off in the woods, cutting trails. He loved to work in the woods. He was a good partner for George; these forests were their own sort of hunting ground. It was not easy for me to see him off the farm with George, leaving the boys and hired men doing the farm work…It was not a decision we had agreed to together," she says. "Later, I came to my senses. He loved what he was doing. Who was I to chain him to something I thought he should be? I saw the importance of what he was doing."
To today's visitors, it seems hard to imagine that in the 1970s there were no hotels, "except for a little pensione in our community," Lucky says. "We didn't have many visitors. Then several people from the states and a Costa Rican put up the first hotel. They started advertising this as the place to go. They didn't ask the local community what we thought about their plans. We had no say about that, and we didn't worry about it either. I remember watching people going up to the forest wondering, 'What is there to see?' I used to think the idea of hiring guides was crazy. Why would anyone do that? Now I understand. You don't really see anything unless you hire a guide. So, our community did gradually change. We all changed, and you grow and you learn. And all of what happened became an education in itself."
A Community Transformed
The little nearby town of Santa Elana began to grow, as more hotels and inns went up, and restaurants opened to serve the growing number of visitors making the trip up the mountain. Only recently did authorities overcome local opposition and construct one paved road all the way to the town of Santa Elana from the valley below. The population grew too, as workers came to build and serve the hotels, restaurants, shops and tourist attractions. Whereas previously the more ambitious of the village children left the area to build their careers and families in San Jose or surrounding areas, now more of the children remained or returned after their higher education was completed. The school founded by the Quakers is a coveted educational choice for many locals, who will tell you that the education there is superior to that offered in Costa Rica's public school system (which despite whatever deficiencies has given Costa Rica a literacy rate of about 98%). While the average tuition at the Quaker school of about $6,000 a year might seem low to folks from the U.S., it's a high price to pay for Ticos, and many seek scholarships. Many parents in the area will do whatever they can to get their children into the school, where the children not only learn history, science, math, Spanish and English, but also study the forests around them.
The tourism industry changed the way both the Quakers and Ticos see the forest. As Lucky puts it, "My husband used to say that he spent the first 20 years of his life cutting down the forests, and the rest of it saving them. The biologists taught us the value of preserving these forests instead of cutting them down. And today the local people make more money preserving the forests, helping visitors appreciate them, than hunting for food."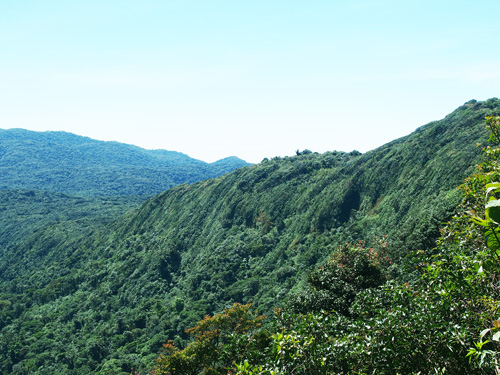 Now the forests in the area are not only protected in the original Monteverde Cloud Forest Preserve, but also in a variety of holdings throughout the mountainous region that together have set aside vast tracts of land for perpetual preservation. While Santa Elana and Monteverde bustle with tourists during the peak season, and some of the Quakers have left, others, including three of Lucky's children, have remained to raise a new generation.
George and Harriett Powell stayed only about five years in Costa Rica, returning to California in part so that George could finish his studies. (Lucky says George would have stayed had Harriett not encouraged him to finish his doctorate back at U.C. Davis.) George says he doesn't get back there much now. His efforts are instead focused on helping to save African elephants through his work with the World Wildlife Federation, and he admits he's an inveterate wanderer. Lucky says George's former wife Harriett taught students all over the world and has returned home to the states to be with family.
So what does George Powell think of what became of Monteverde? While admitting that he never imagined that the cloud forest would generate a local tourism industry—which he admits has both some positive and negative effects—he says overall he feels satisfied with the outcome. "It certainly helped change Costa Rica. I would never take credit for Monteverde. What I like to think is that what we helped Costa Rica. When we got here, Costa Rica was a basket case in terms of preservation. It had so much population growth and deforestation, Costa Rica was considered almost a worthless effort from a conservation point of view. Today, it has made tremendous progress and is profiting from what it almost destroyed, which has created a model for the rest of the world."
A Blunt Assessment
George says he has only one serious regret—that the Cloud Forest Preserve is run by people in San Jose, rather than organizations located in Monteverde. As explained by others we spoke with as well, this means the majority of the park entrance fees flow to organizations managed in San Jose rather than to local initiatives. Because the park is run by an out-of-town organization, Powell explains, "the local tourism industry feels little connection to the forests, even though it is the source of their business, because from the point of view of the hotels and tourism industry the park is run by out-of-town organizations that do little for the community. It becomes a case of us versus them rather than everyone working together. There's not enough of a connection between the community and the organization that runs the preserve."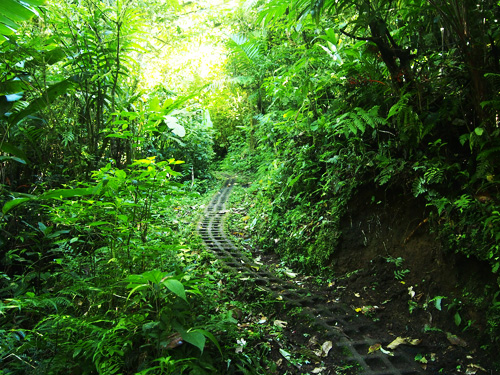 Despite Costa Rica's famed leadership in the world of eco-tourism, Powell feels the government doesn't live up to the country's reputation as a leader in eco-tourism. "It hasn't done enough to earn the respect it gets," he says. "All of those park entrance fees just seem to disappear. There are no rangers. No interpretive handouts for visitors. When they do something, it's almost always financed by a grant from someone else."
So when you come to this world-class eco-tourism destination to admire one of the most wondrous forests on earth, you'll now know that those who helped preserve it never intended for Monteverde to become a tourist destination or a catalyst for eco-tourism; that one of those founders was a convert from tree-cutter to tree-saver whose wife ironically had to work through the impact of this transformation; that the Golden frog they meant to preserve became extinct anyway; that the idealistic biologists never dreamed their efforts would change a culture focused on chopping down forests or hunting animals to preserving them; or that preservation pioneers feel a government known the world over as a leader in eco-tourism could be doing more to support the movement they helped create.
To experience the human history of this community, to ponder the improbable set of events behind its creation and the birth of eco-tourism, you might want to attend a Sunday service at the Quaker Meeting House at the small school on the road to the Monteverde Cloud Forest Preserve. There, every Sunday morning at 10 a.m. for those who wish to sing, and at 10:30 a.m. for the service, you can share with the Quakers, their descendants and members of the local Tico community an hour of silent prayer or the spontaneous expression of some reflection from whomever wishes to speak, as is the manner of the Quaker service.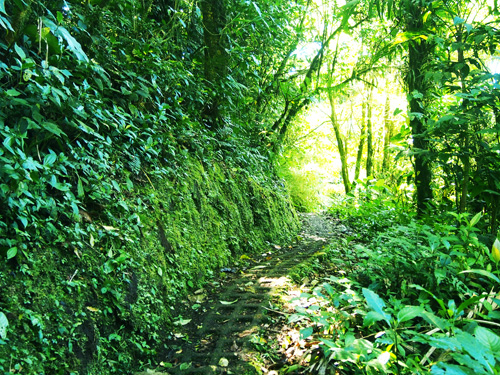 Note: The Monteverde Quaker Meeting operates many projects, including the Friends School, scholarships, the community library, the graveyard, religious education and more. Donations can be made by mail to Monteverde Friends U.S., P.O. Box 1308, Greenfield MA 01302, or online at Networkforgood.org.